HYGIENIC, CLOSED DECK, RACKABLE PALLET CERTIFIED FOR FOOD INDUSTRY
Racking capacity of up to 1000 kg (assuming even distribution of load), and static loads of up to 5000 kg. Unsurpassed durability, thanks to the characteristics of the chosen materiał, recycled LLDPE, which has a very high impact resistance also in Iow temperatures. Invisible Steel reinforcements in runners add strength and reduce deflection.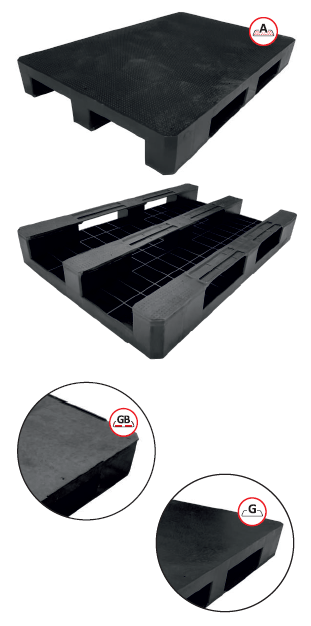 The invisible steel reinforcement of the skids makes it highly resistant to deflection. The attractive price we offer is possible thanks to our unique recycling technology. In the production of P18 plastic europallets, we use a smooth non-slip surface and toe boards.
Dimensions and weight of the plastic Euro pallet P18
dimensions: 1200 x 800 x 150 mm,
weight: 18 kg,
color: black,
surface:

A – non-skidding,
G – smooth,
B – rims.
Load limit for plastic europallets P18
P18 plastic pallets are very durable. Permissible loads on high-storage racks up to 1000 kg (with evenly distributed loads), dynamic loads up to 1500 kg, static loads on a flat surface up to 5000 kg.
rack: 1000kg,
dynamic: 1500kg,
static: 5000kg.
Contact the manufacturer of plastic pallets directly