HYGIENIC, CLOSED DECK, RACKABLE PALLET CERTIFIED FOR FOOD INDUSTRY
Plastic pallets, model P20, are easy to wash and very durable due to the fact that they are made of polyethylene, which is chemically resistant and resistant to low and high temperatures (temperature range: -30 C to +70 C). P20 plastic pallets are impact-resistant thanks to their thick-walled construction.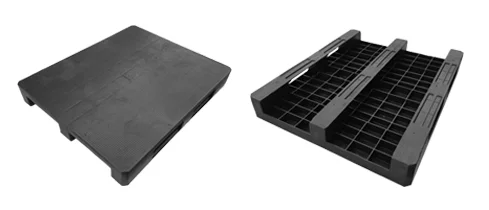 The surface of the P20 plastic pallets is covered with a non-slip surface and toe boards at the edges (optional). LOW PRICE – thanks to our innovative technique of obtaining raw material from recycling and thanks to the low weight of the pallet.
Dimensions and weight of the P20 plastic pallet
dimensions: 1200 x 1000 x 150 mm,
weight: 21 kg,
color: black.
Surface
A – non-skidding,
G – smooth,
B – rims.
Load limit for the P20 plastic pallet
P20 plastic pallets are very durable. permissible loads on high storage racks up to 1,200 kg (with evenly distributed loads), dynamic loads up to 1,500 kg, static loads on a flat surface up to 5,000 kg.
rack: 1200kg,
dynamic: 1500kg,
static: 5000kg.
Unsurpassed durability, thanks to the characteristics of the chosen material, recycled LLDPE, which has a very high impact resistance also in low temperatures. Invisible steel reinforcements in runners add strength and reduce deflection.
Contact the manufacturer of plastic pallets directly