We offer Becker 320 Retention and Drainage Tunnels with technical approval. Drainage tunnels are made of plastic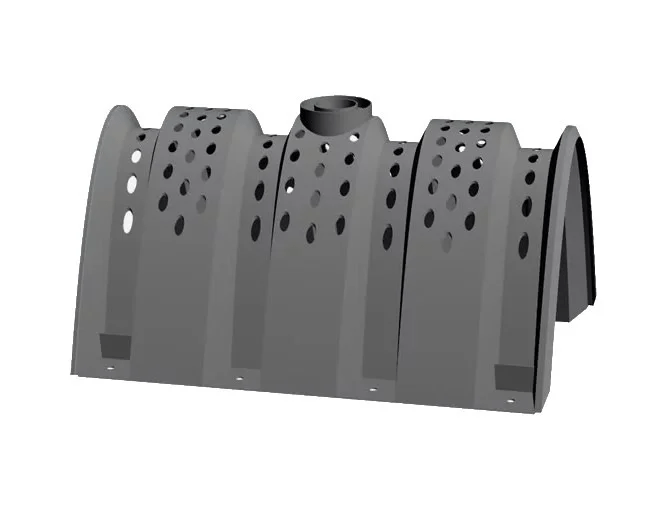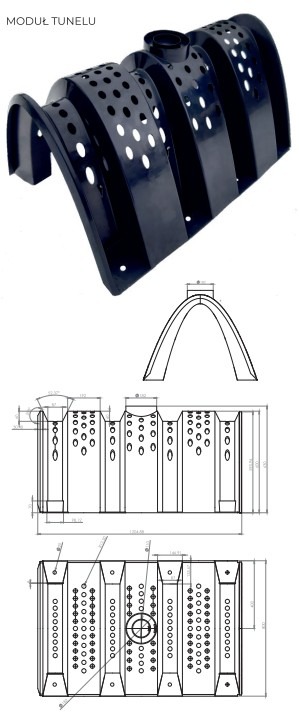 Capacity, dimensions and weight of the retention and infiltration tunnel
Model: BECKER 320 retention and drainage tunnel module with technical approval.
Module capacity: 320 l,
Dimensions: 1205x800x630 mm,
Weight: 9,50 kg,
Resilience: tunnels can be installed under parking lots for trucks up to 30 tons.
Technical description of retention and drainage tunnels
BECKER 320 retention and drainage tunnels with faceplates wrapped with filtration geotextile are intended for drainage and retention of rainwater collected from the roofs of buildings and paved surfaces such as terraces, parking lots, streets and roads. Rainwater is directed to filtering devices to separate mechanical impurities, and then through sewage pipes to tunnels wrapped with filter fleece in order to retain and drain water in the ground.
The infiltration tunnels are combined into groups (vertically and horizontally), the sizes of which depend on the size of the area from which the water is collected. The infiltration tunnels are laid in a trench on a gravel base, and in the case of poorly permeable soils also in a gravel bed in private and public buildings, in the areas of pedestrian traffic, car and truck traffic.
Upper connections: DN 100 (or: DN 150; DN 200; DN 300),
Lower connections: DN 100,
Inspection and vent connection: DN 100 or DN 200,
Material: PP/PE,
Color: Black.
BECKER 320 infiltration tunnels are registered as a new industrial design No. 002347658; are made of a mixture of polypropylene and polyethylene (PP / PE) from recycling by injection. For venting the tunnels of the BECKER system and for connection to the installation and sewage network, PVC-U pipes and fittings are used, meeting the requirements of PN-EN 1401-1: 2009, or polypropylene (PP), meeting the requirements of PN-EN 1852 -1: 1999 (+ PN-EN 1852-1: 1999 / A1: 2002). Connections of the BECKER system elements with pipes are sealed with elastomeric gaskets – rings.
Purpose, scope and conditions of use of the retention and infiltration tunnel
BECKER rainwater tunnel sets are designed for the management / retention as well as gravity distribution and infiltration of rainwater drained from the roof of the building and collected from paved surfaces, but can also be used for infiltration of sewage from biological wastewater treatment plants.
BECKER element kits can be used in residential, public and industrial construction. The system elements kits can be used in soils with a low level of groundwater, in light and permeable soils, and in cohesive soils (poorly permeable) with the use of a gravel backfill.
When using the BECKER system component kits, the following conditions must be met:
the bottom of the excavation should be leveled offand covered with a 10 cm layer of 8/16 mm gravel,
the tunnels should be placed on the layer of gravel and connected with each other by their overlapping edges. Then they should be wrapped in the geo-textile cover, with a 30 cm overlap,
the bottom surface of the tunnels should be placed at least 1,0 m above the groundwater level,
the rainwater pipes should be placed with a proper slope,
the top ends of the rainwater sewage system and filters should be compliant with the PN-EN 124:2000 norm,
the distance between the tunnels and a building with a non- isolated basement should be at least 6,0 m,
to drain an area of 100 m2 during a 150 l/s/ha rainfall at least 3-7 tunnels are needed – it depends on the soil water conductivity factor.
Load limit and conditions for building infiltration tunnels
Loads: permissible load of truck traffic up to 30t
Minimum thickness of ground cover:
25 cm under the pedestrian traffic,
75 cm under the passenger cars traffic,
150 cm when under 30 t lorries.
Maximum depth of foundation (measured from the bottom of the tunnel):
When building BECKER retention and drainage systems, the requirements of the following standards should be taken into account:
PN-B-10736:1999 Excavation Works – Open excavations for the water pipelines and sewage pipelines – Technical Conditions,
PN-EN 1295-1:2002 Static calculations for ground pipelines at a variety of load conditions – Part 1: General requirements,
PN-EN 1610:2002 Structure and functioning of the sewage systems.
Contact the manufacturer directly