PALLET WITH STACKING POSSIBILITY AND PZH APPROVAL
The export plastic openwork europallet P2 is a monolithic pallet, has vertical stoppers (SAFETY RIMS) on the edge to stabilize load.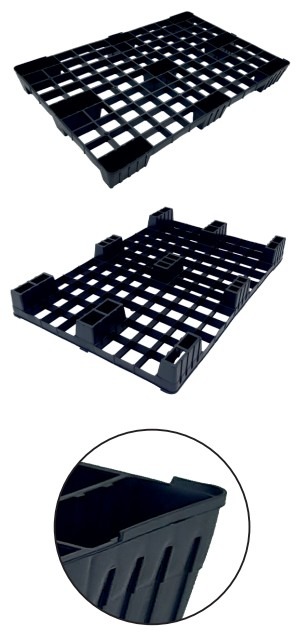 P2 exported europallets with the possibility of stacking, have a hygienic certificate of the National Institute of Hygiene. They are made of recycled HDPE / LLDPE material – it is chemically and frost-resistant.
INFO FOR SPEDITORS: Pallets per stack – 45 pcs, number of stacks – 33, total 1485 pcs*
*Standard Truck
Dimensions and weight of the P2 plastic europallet
dimensions: 1200 x 800 x 143 mm,
weight: 5,5 kg,
color: black. 
surface:
Load limit for the P2 plastic europallet
P2 plastic pallets are very durable – permissible dynamic loads up to 800 kg, static loads on a flat surface up to 1500 kg. NOT SUITABLE FOR RACKS!
dynamic load up to 800 kg,
static load up to 1500 kg.
Contact the manufacturer of plastic pallets directly